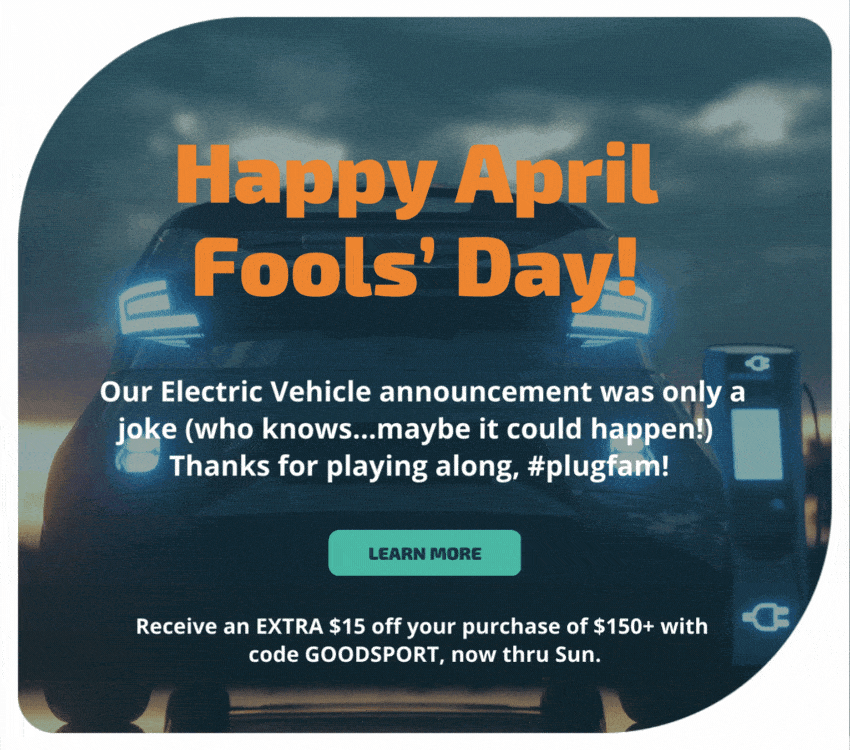 Update on plug Electric Vehicles.
Did you hear our exciting announcement earlier today, 4/1? We announced that we're working on the future of plug and our next offering – a full line of Electric Vehicles with plug Auto. We have one very important update to share with you….Happy April Fools' Day! It was only a joke.
While we love the idea of offering electric vehicles (who knows, it could happen), we were just having a little fun on this unofficial holiday. Our focus remains the same – providing in-demand, reliable Certified Pre-Owned personal tech devices at up to 70% off other retailers' prices, saving you money and helping to preserve the planet one device at a time.
As a thank you for playing along, thru tomorrow, you can receive an EXTRA $15 off your purchase of $150+ with code GOODSPORT. This offer is valid thru 4/3. Happy April Fools' Day and happy shopping! Thanks again for playing along!
Videos
the future of plug, electric vehicles
We're working on the future of plug, and we have a VERY exciting announcement to share with you, the #plugfam
Who is plug
For those of you who aren't familiar with plug, we are a leading online retailer of in-demand, Certified Pre-Owned personal tech devices like Mac laptops, iPhones (including the iPhone 14), Androids, tablets, headphones, smart watches, home tech, accessories, and much more. We make it easy for you to save up to 70% off other retailers' prices on the tech you need.
Saving the Environment
Best of all, when you purchase with plug, you're making an eco-friendly purchase, helping to reduce electronic waste (e-waste) by giving new life to a good device that otherwise would end up in a landfill before its time.
Customer Savings
To date, we've saved over one million working devices from landfills. And we've saved our customers millions of $$$ by purchasing tech from plug. We also are continuously expanding the products we carry to provide even more Certified Pre-Owned products and savings to you.
The future of plug
We've grown a lot over the last couple of years and had a lot of big announcements to share. But this announcement is BY FAR our BIGGEST one yet! We are so excited to talk about something we've been working on for quite a while now - our next product offering. Plug will be soon certifying and selling Certified Pre-Owned Electric Vehicles at UNBELIEVABLE savings!
A full lineup.
That's right, a full lineup of Electric vehicles is coming soon, disrupting the automobile industry with plug Auto and bringing you unbeatable savings!
sign up below to be notified of any updates!