How to Factory Reset Your

 

iPhone
Are you experiencing issues with your iPhone?  Is the device randomly shutting off? Is it glitching? Or maybe it keeps freezing. Usually, resetting the device back to its factory settings can clear up any of those issues.  Before we show you the steps to Factory reset your device, there are a few things you should consider.  Factory resetting the device will take it back to the basics, therefore any apps that you downloaded and information is usually wiped off of it. Make sure to save all of your information to your iCloud to prevent any of it from being lost.  We will outline how to do that in the first step below.
Open the Settings app and tap your name and Apple ID at the top of the page.  On the Apple, ID Page select "iCloud", then scroll down and select iCloud Backup.  You will have to select Back Up Now to back up all of your information.
To reset your iPhone, select Settings > General > Reset and click Erase All Content and Settings. Make sure you backup your iPhone first so you can restore your data later.
In "Settings," scroll down and tap "General."

At the bottom of the "General" page, tap "Reset." 

To factory reset your iPhone, select "Erase All Content and Settings."

You'll be prompted to enter your passcode, then your device will ask you to confirm that you want to erase everything. Tap "Erase" to confirm.

This could take a few minutes, depending on how much you have stored on your iPhone, but once the deletion is completed, your device will restart as new.

 
Hopefully, this outline helps you in Factory resetting your device in the safest way possible.  Remember, this should only be done if your device seems to be having some sort of software issue or if you are getting rid of it.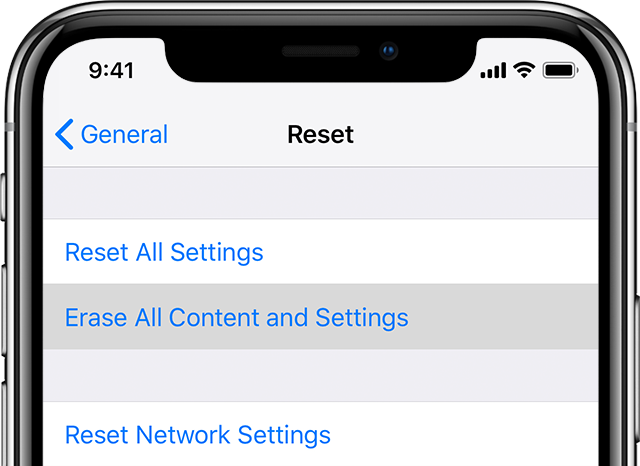 About plug:
Plug, formerly eCommsell, is a leading consumer electronics provider and online retailer that connects people to reliable, renewed devices. The company is based in St. Louis, Mo, and was founded to make it affordable and easy for people to get the most out of their personal technology purchases, helping to reduce unnecessary e-waste. Plug hand tests and certifies every device it sells through its rigorous 90+ point 'Certified Pre-Owned Assurance' certification process, providing a one-year warranty and 30-day money back guarantee on all devices sold. Plug is 'Responsible Recycling' or 'R2' certified, and has helped to prevent over one million working devices from reaching landfills since 2009. Find all of our deals at www.plug.tech or by downloading our mobile app.