Not only is the iPhone XR one of the most reliable devices out there, but it is also cheaper than the XS, It includes a lot of the same features as the iPhone XS while offering the same variety of colors as the iPhone 11. As a parent you don't have to worry about choosing the wrong color, the iPhone XR comes in 6 different colors (Black, red, yellow, coral, white,  and blue.) The iPhone XR also comes in two different capacities, 64GB and 128GB, which provides your teenager with more than enough space for apps, pictures, videos, etc.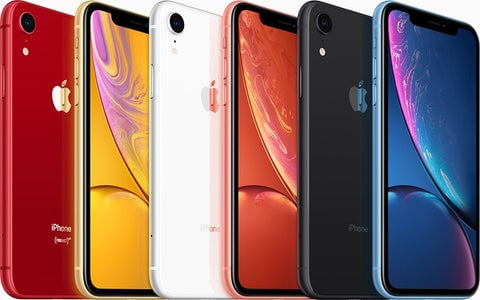 The iPhone XR is the ideal device for a teenager solely due to its A12 bionic processing chip, the same as the XS, and one generation below that of the iPhone 11. The A12 chip allows for the iPhone XR to run at an unbelievable fast speed, which allows for teens to stay up to date on the latest apps, social media platforms, and so on. In addition to having one of Apple's fastest processing chips, the iPhone XR also comes equipped with an all-day battery. This all-day battery also comes equipped with wireless charging ensuring that your teenager never has an excuse for their device being dead again.
The iPhone XR also comes with a standard 6.1 liquid Retina HD screen which makes watching videos, texting, and even using apps that much more entertaining. Its 12MP back camera along with a 7MP front camera equipped with extensive features that enhances the quality of photos and recordings making everyday norms like taking selfies and snap chatting that much easier!
The iPhone XR offers Apple Pay which makes it easier for parents to transfer funds to teenagers along with being able to effectively manage their accounts electronically.
Although this device isn't the most recent Apple release it is still one of the new devices that offers essential features such as facial recognition, water & dust resistance, and Siri which are all important features that teens value as they desire up-to-date tech-savvy devices.